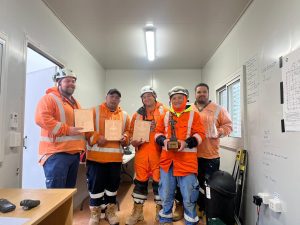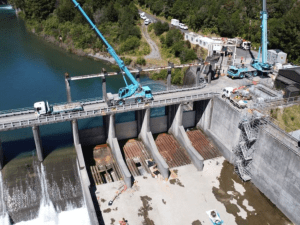 Connell Contractors took home three significant awards at the Waikato Hynds Civil Contractors New Zealand (CCNZ) Construction Awards on Friday 11 August.
Connell's work with Genesis Energy on the Poutu Intake and Tunnel Erosion Repair earned the team top place in the $1 – $5m projects category.
Connell also took home the Health and Safety award which is assessed across all project entries, and the overall Supreme Award.
The Poutu Intake and Tunnel Erosion Repair project took place in early 2023. Connell was engaged by Genesis Energy to carry out repairs on the Poutu intake in the Tongariro Hydro Scheme during a six-week shutdown in early 2023.
Connell CEO Lester Foxall said the team were humbled to be recognised for their effective, efficient, and safe work on this complex and challenging project.
"Working in a tunnel, protecting the environment, navigating challenging craneage requirements, and delivering to a short timeframe all added to the complexity of the project," Lester said.
Lester said the project presented significant health and safety risks, including working at heights, confined space, water management, and isolated works.
"Much of the work was undertaken in the tunnel, which had limited lighting, difficult access, and water ingress. Every day our team navigated five storeys of scaffolding to access the work area."
Lester said significant planning and preparation took place to ensure the team had mitigation measures for every possible scenario. They also invested heavily in training and safety equipment.
"As with all our projects, our strong health and safety performance is due to our excellent planning and preparation, and our overall culture of safety," added Lester.
As well as the unique project requirements, the Auckland Anniversary weekend floods and Cyclone Gabrielle impacted the river and delayed some of the project timeframes.
Lester said despite the challenges, the project was delivered on time, to budget, and to a high quality, receiving recognition from the team at Genesis.
Genesis Energy Civil Engineer Bachir Ibrahim said "Connell's site team showed the passion and commitment to get the job done within the requirements of Genesis Energy and its stakeholders. The team was collaborative when it came to coordinating with other contractors, which helped to get the job done on time and to budget."
Connell has been announced as a finalist for the CCNZ Construction Excellence Awards, with awards to be presented during the CCNZ National Conference in September.
Founded in 1978, the CCNZ Hirepool Construction Excellence Awards represent the pinnacle achievements of New Zealand's civil construction industry. Expert judges tour the nominated projects and assess comprehensive information provided by the entrants.